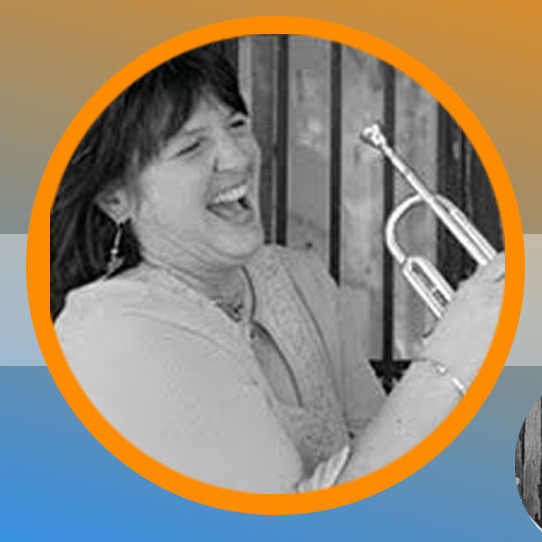 Jeannie Tanner is a singer-songwriter and trumpeter who performs and records her original music - a mix of jazz, pop, R&B and Latin rhythms. She has earned six ASCAP Composer Awards and has seven Grammy-considered albums. Her album WORDS & MUSIC was named by the Chicago Tribune as one of the Best of 2017 (top 10).  
"I'm reminded of what we call standards," 
explained Jason Marck of NPR in describing Tanner's writing style. "
That's not just Tin Pan Alley with your Gershwins, Porter, your Rodgers and Hart; I also hear Brill Building influences like Mann & Weil, King & Goffin and Bacharach & David…"
Ms. Tanner's songs have been featured in many television shows and movies including "Culinary Travels with Dave Eckert" (PBS/The Travel Channel), "Revenge" (ABC), "Single Ladies" (VH1 - produced by Queen Latifah) "Real Housewives of Beverly Hills" (Bravo), "Young and the Restless" (CBS) and many Hallmark holiday movies including "Christmas Cookies" and "Signed, Sealed, Delivered for Christmas." She is proud to be signed to Heavy Hitters Music in L.A. And, her music can be heard on local, national and international radio via traditional stations, Sirius XM and on the internet where she has her own Pandora station. 
Tanner has performed in the Chicago area for 15 years, doing public and private gigs 5-7 nights a week at venues including headlining at Andy's Jazz Club, Winter's Jazz Club, the Skokie Theatre and Davenport's Piano Bar. She plays solo, duo, trio and with her quartet - depending on the needs of the club owners/clients. These days, Tanner is composing, recording in her home studio and working on new projects with Abigail Riccards - including their weekly Facebook Live-streams together. They've been doing their DESPERATE MEASURES MUSIC SERIES: 2 Voices/2 Pianos since mid-March. Tanner has been excited to blend her voice with Abby's every week singing harmonies, playing piano, some trumpet and a little percussion. Abby & Jeannie have a great time - just two friends making music, sharing laughs and telling stories about their lives.
Chicago musician Abigail Riccards has made an international name for herself in the jazz and pop music community for nearly 20 years. After launching her career in New York City in 2002 at storied clubs like Birdland, the Jazz Standard, Smalls, and the Kitano, she continued to garner praise as a selected semifinalist in the 2004 Thelonius Monk International Jazz Competition. 
After nearly a decade on the east coast, Riccards broadened her scope to the iconic Chicago jazz scene, where she frequently headlines legendary clubs such as the Green Mill, the Jazz Showcase and Winter's Jazz Club. After releasing her 3rd studio album in 2013, she performed on the main stage at the Chicago Jazz Festival with Matt Wilson's Honey and Salt tour. She has also collaborated with artists such as Jane Monheit, Peter Bernstein, Joel Frahm and Mulgrew Miller.
Her live engagements have been met with generous praise from top critics. The Chicago Tribune's Howard Reich referred to her as "a breath of fresh air...possessing a textured but radiant quality" and Christopher Loudon from JazzTimes said "Abigail Riccards has mastered the increasingly dangerous art of making less, more. Think Doris Day with Anita O'Day jazz smarts."